Using Your Community's Laundry Room Equipment

Welcome to another FMB Laundry How To Video! This video teaches residents, guests, and anyone else using your laundry room's equipment the proper way to load a top load washing machine!
Property and community managers, please feel free to share this informational video with your residents and let them know they can contact FMB Laundry with any questions about how to best use their laundry equipment.

https://alliancels.wistia.com/medias/417sxoofuq?embedType=iframe&videoFoam=true&videoWidth=320

Step By Step Instructions

Video not working properly? Here's how to properly load your top load washing machines:
Always load the washing machine tub with like items such as linens, towels, darks, whites, or colors
Loosely load items until the second row of perforations from the top of the tub
Avoid overloading your washing machines in order to ensure proper operation
Add detergent and fabric softeners based on the package directions
Close the lid and select the appropriate wash cycle for your items
While it seems easy and obvious, many people still overload their laundry room's top load washers.

Why Residents Need to Know How to properly load a top load washing machine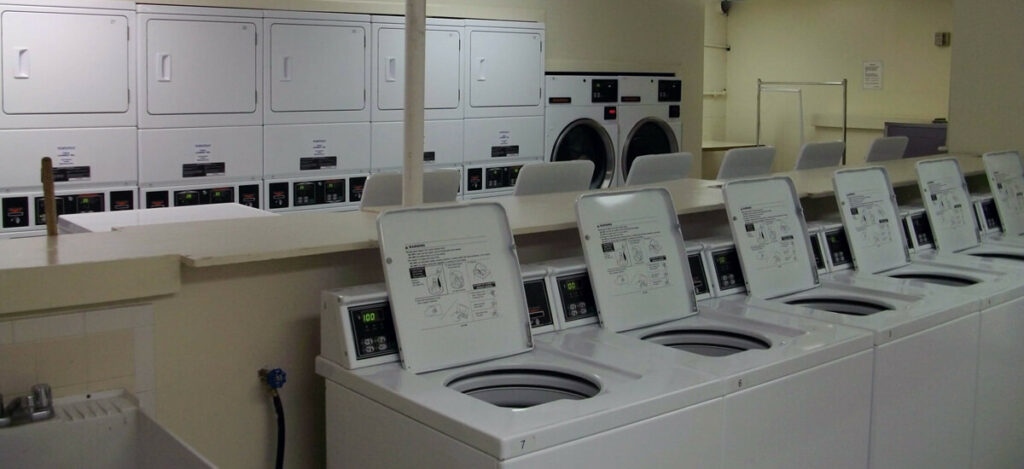 Due to the way washing machines work, proper loading of clothes is crucially important. This is especially relevant in community laundry rooms where washers are heavily used. Here are a few of the potential problems caused by overloading.
Clothes Remain Dirty

As a result of overloading a washer, clothes can actually be just as dirty as they were before the wash cycle. This is because they do not soak, spin, and rinse properly, meaning the clothes are not actually being cleaned. Another reason clothes remain dirty is that bigger loads require more detergent. Clothes can actually come out smelling just as bad, or worse, than when they went in the washing machine!
Damage to Machines

Since washers are designed to handle certain sized loads, overloading puts undue stress on the machine's components. Over time, this can lead to damage and even motor failure. To dispel a common myth, socks do not disappear from washing machines. They do, however, get stuck in washing machine drains due to overloading. This can ultimately cause machines overflow, flood the laundry room, and break. Avoiding overloading is a surefire to keep your washing machines working.
Unnecessary Resident Complaints

When a property's laundry equipment isn't working it typically causes a flurry of resident complaints. Since overloading leads to dirty clothes and broken machines, it also leads to resident complaints. When resident's do not overload machines, they indirectly reduce the amount of laundry room related complaints in the property management office!
When resident's know how to properly load a top load washing machine it keeps their clothes cleaner and means less broken machines in the community laundry room.
Using Other Laundry Room Equipment

While knowing how to properly load a top load washing machine is important, it is just one of many important steps in properly using your laundry room's equipment. Ready to learn how to best use your laundry room's other equipment? Check out all of our How To Video Posts!
This video was provided by Alliance Laundry Systems, the world wide leader in commercial laundry equipment and exclusive manufacturer of Speed Queen Washers and Dryers.